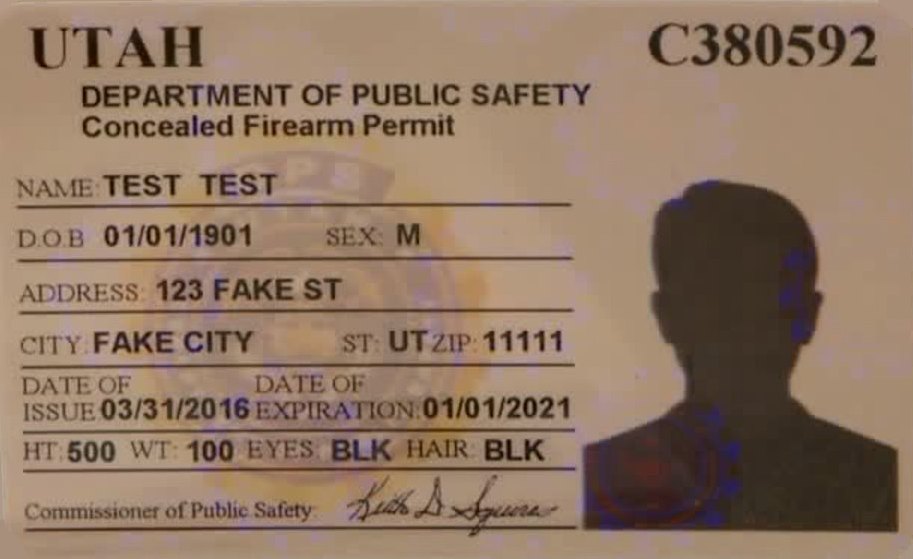 **WARNING**
It is extremely important that if you obtain a Utah concealed firearm permit,
you must be aware of all the current laws and requirements of this state.
A Utah permit does not supersede any other state's laws or requirements.
Utah Is A Constitutional Carry State
If You Are At Least 21 Years Old & Not A Prohibited Person, You Are Not Required To Obtain A Utah Concealed Firearm Permit To Carry A Fully Loaded Firearm Openly Or Concealed
For More Information Click Here
Utah Residents:
0
States
Recognize The Utah Permit
Utah Residents:
0
States
Recognize The Utah Provisional Permit
Non-Residents:
0
States
Recognize The Utah Permit
Non-Residents:
0
States
Recognize The Utah Provisional Permit
0
States
Do NOT Recognize Utah Permits
You will be denied a permit or, if you have a permit, it may be denied, suspended, or revoked if you have any disqualifying convictions
Utah is a shall-issue state. This means that as long as you meet the minimum requirements below you will be issued a permit
Concealed Firearms Permits in the State of Utah are regulated by the Bureau of Criminal Identification (BCI)
The Utah permit is valid for 5 years and 5 years upon each renewal
Cost
Utah Residents: $53.25
Non-Residents: $63.25
Eligibility
All applicants must be:
At least 21 years old to apply for the concealed firearm permit
At least 18 to 20 years old to apply for the provisional concealed firearm permit. Individuals who are at least 17 years old can complete the required training. BCI WILL NOT accept any application until the individual's 18th birthday.
Non-Residents:
If you live in any of the following states that recognize or have reciprocity with Utah, you must have a valid permit/license from your state BEFORE you can obtain a Utah permit.
Alabama, Alaska, Arizona, Arkansas, Colorado, Delaware, Florida, Georgia, Idaho, Indiana, Iowa, Kansas, Kentucky, Louisiana, Maine, Michigan, Mississippi, Montana, Missouri, Nebraska, Nevada, New Hampshire*, North Carolina, North Dakota, Ohio, Oklahoma, Pennsylvania, South Dakota, Tennessee, Texas, Utah, Vermont, Virginia, Washington, West Virginia, Wisconsin, or Wyoming.
If you live in any of the following states that Do Not recognize the Utah permit, you Do Not need a permit/license from your state to obtain your Utah permit.
California, Connecticut, Hawaii, Illinois, Oregon, Maryland, Massachusetts, Minnesota, New Jersey, New Mexico, New York, Rhode Island, South Carolina, or Washington D.C.
This requirement does not apply if:
You are an active duty service member (and their spouse), who provides BCI with a copy of their orders requiring the active duty service member to report for duty in this state
Residency is determined by your state-issued identification.
Training Required
All applicants must complete the Utah concealed firearm permit class taught by an approved instructor.
The training must include general familiarity with the types of firearms to be concealed, the safe loading, unloading, storage, and carrying of the types of firearms to be concealed; and current laws defining lawful use of a firearm by a private citizen, including lawful self-defense, use of force by a private citizen, including use of deadly force, transportation, and concealment.
Training must be in person and CAN NOT be through electronic means (internet or video)
Provisional permit holders are NOT required to attend a concealed firearm permit class to switch to the regular concealed firearm permit. For more information click here.
Where To Take The Required Training
Utah DOES NOT accept any online training to obtain the permit
Utah DOES NOT accept any other training or state permit to satisfy the Utah training requirements
You can find a list of certified instructors on the BCI website, Click Here
We provide EVERYTHING you need in our class including fingerprints, passport picture, copy of your driver's license/ID, supporting documentation (if applicable), and FREE hand-delivery of your application to BCI
What Must Be Submitted
All Applicants Must Submit:
A completed concealed firearm permit application. All information must be typed or legibly printed using ink. The certified instructor must have completed the Weapon Familiarity Certification section which includes the applicant's full name, the instructor's approved stamp, signature, and date on which the applicant completed the class
One Photograph: A recent color photograph of passport quality (2″x2″, no hats or sunglasses) taken within the last 60 days and has your name printed on the back
One Fingerprint Card: (FBI FD-258) The fingerprint card must be completely filled out, writing and prints must be legible, including signatures of both applicant and official
All information must be typed or legibly printed using black or blue ink ONLY. Cards with a required field left blank will result in immediate rejection without further processing. Fingerprints must have been taken by a qualified individual. Fingerprints that do not meet the strict requirements will be rejected.
A photocopy of your non-expired Driver's License or State issued Identification Card.
If applicable, documentation showing you were born outside the United States and proof of United States legal residency such as Naturalization Number, Born Abroad Birth Certificate (born on a US military base), valid U.S. Passport, or permanent resident card.
If applicable, you must provide documentation to support any "Yes" answers.
You can obtain fingerprints and passport pictures from the businesses below
Where To Take The Application
BCI must receive your application within one year from the date it was signed by the instructor.
Applications may be submitted in person or by mail
Application Process
Upon receipt of your completed application packet, BCI will process your payment, then applications will be reviewed in the order they were received.
Upon completion of the background investigation, if it is determined that the criteria established by law have been met, the permit will be mailed to you.
Please do not call BCI to check the status of your permit, the review process may take up to 60 days. Whenever someone calls into BCI with a question the employees that answer the phones are the same employees trying to process the applications and issue the permits. The more phone calls they receive slows down the processing time of the applications.
BCI recommends watching your credit card account or checking account to see when the payment went through and then adding another 60 days to that, this will give you an idea of when to expect your permit. Please do not contact BCI before this timeline has lapsed.
Appeals Process In Case Of Denial
If you are denied a concealed firearm permit, you may appeal the decision as described in 53-5-704(16).