Utah Is A Constitutaional Carry State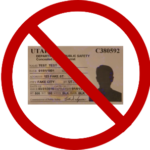 Individuals Who Are At Least 21 Years Old

If you are at least 21 years old and not a prohibited person as defined in 76-10-503 or 18 U.S.C. 922(g):
It is LEGAL to carry any lawfully owned firearm

fully loaded and concealed

without a concealed firearm permit.
Note: There is no law in Utah that requires the firearm to be concealed under constitutional carry.
It is

ILLEGAL

 to have or carry any firearm in any Utah Prohibited Areas, or Federal Prohibited Areas.
It is

ILLEGAL

to carry a firearm on any school premises unless you have a

valid

Utah concealed firearm permit.
It is

ILLEGAL

 to have a loaded rifle, shotgun, or muzzle-loading rifle in a vehicle unless you have a valid concealed firearm permit and it is your vehicle or you have consent from the owner of the vehicle. This means you can only have a loaded handgun in a vehicle. Firearms In Vehicles.
See all other Constitutional Carry States.